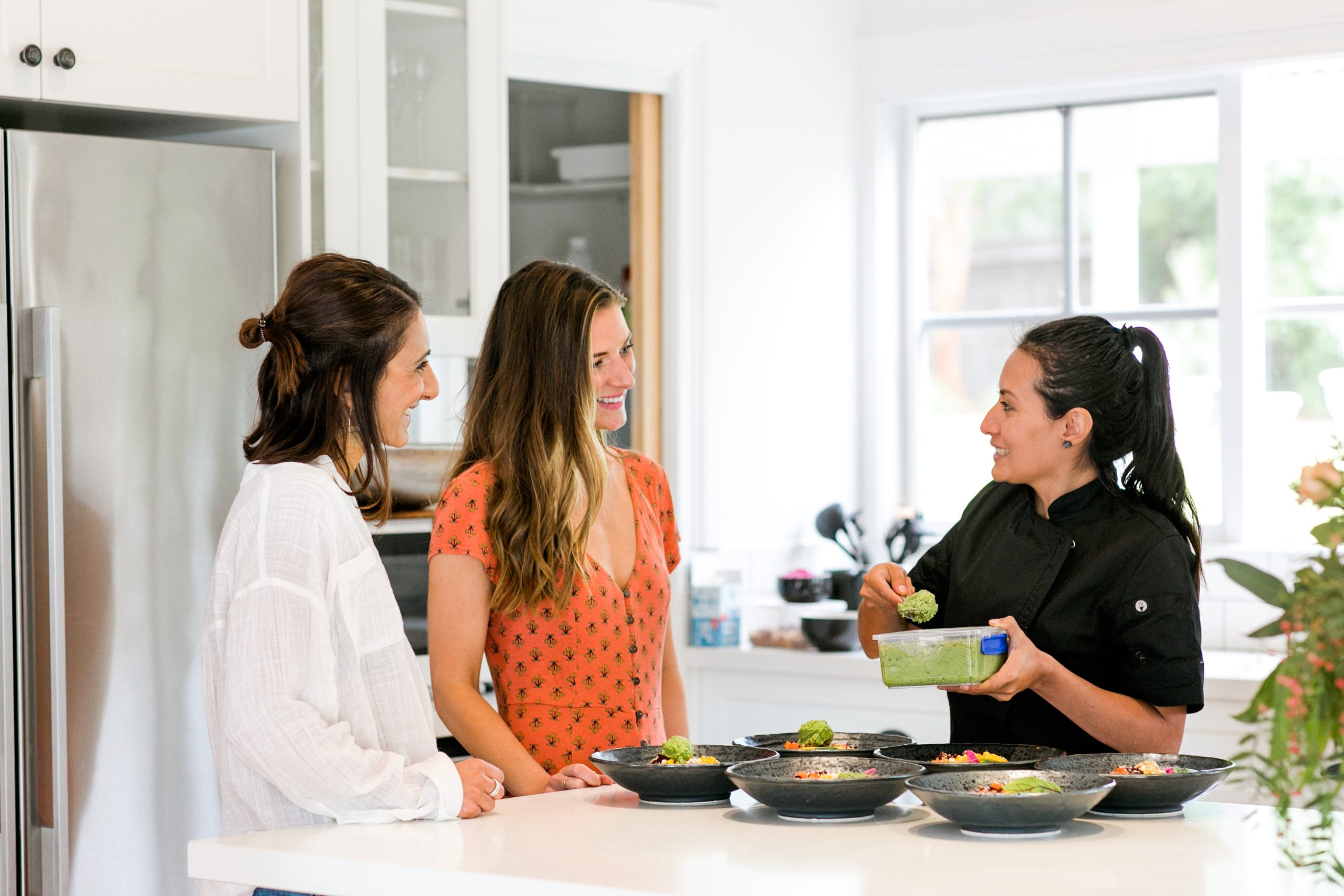 7 reasons why you should choose a retreat chef vs self-catering your retreat
16 May 2023
Picture this – laughter, heartfelt conversations, and nourishing food surrounded by friends (or family). All in the comfort of a beautifully appointed vacation home. Sounds like a dream, doesn't it? Turn this dream into a reality with a girls' weekend along the Great Ocean Road at Summer House Retreat.    
Why book a girls' weekend at Summer House Retreat
Our beautifully appointed retreat home near Torquay, along the Great Ocean Road is the ideal destination for a girls' retreat. Set on half an acre of soulful gardens, Summer House Retreat is a mindfully renovated 100-year-old homestead intentionally designed for intimate retreats. 
Enjoy stunning ocean views, high-end Hamptons-style kitchen, or a dip in the solar-heated mineral pool. Book yoga classes or massages in our spacious multi-purpose studio space. And if our stunning venue isn't enough to sell you on why you should host a girls' getaway with us, then read on to explore all the reasons why we think a girls' weekend is a must-do year-round at Summer House Retreat.  
Build connections & friendships
At Summer House Retreat, time slows down, giving you the space to nurture connections that matter. Share love and laughter while basking in the warm glow of the fire, share a cuppa on the wrap-around veranda or delight over nourishing food in our open-plan dining space.  
Prioritise self-care
indulge in spa-like treatments, and massages or hire a yoga instructor to teach a class. Or visit the nearby One Spa located in the RACV resort for Hammam Bathing (water therapy), a soak in their relaxation pool or unwind in their thermal stone steam room. Whatever you choose, Summer House Retreat offers a sanctuary to find balance and harmony.  
Reconnect with nature
Pristine beaches, breathtaking coastal hikes, Summer House's lush garden space – whatever you choose, nature will help gently guide you back to your true essence when you spend time at Summer House Retreat.  
Explore Torquay's local treasures
Home to the famous Bells Beach, cruisy coastal cafes and iconic surf shops, it's no surprise Torquay is the starting point of the Great Ocean Road. Enjoy the sunrise (or sunset) as you stroll along one of our many beaches, allowing the soothing sounds of waves to wash over you.   
Girls' getaway near Melbourne
Located only an hour's drive from Melbourne and a mere 30 minutes from Avalon Airport. Summer House Retreat boasts four inviting bedrooms, comfortably accommodating up to eight guests. It's the perfect sanctuary for a girls' retreat to unwind and enjoy one another's company.  
Book your girls' weekend online
Our gorgeous, light-filled coastal home is brimming with sacred energy and ready to welcome your group for a girls' retreat. Book your girls weekend now to get the dates you desire.  
And one last (yet very important) thing to note. When you book a girls' getaway at Summer House Retreat, our caring owner, Deb, will be your personal guide, offering you many ways to enhance your girls retreat.  
In search of a

talented local chef to cater

for your girls' retreat? Deb has curated a special list of local culinary artists who accommodate any dietary preferences. 

 

Interested in hosting a rejuvenating yoga class in our studio? Deb can provide a list of local yoga instructors.

 

Curious about the coastal trail hikes that best suit your group? Deb, a Jan Juc local, possesses an intimate knowledge of all the hidden gems and will gladly share her insights.

 
When you book Summer House for your girls' weekend, you not only gain access to a stunning venue but also receive the nurturing support from Deb to cultivate a transformative girls retreat.